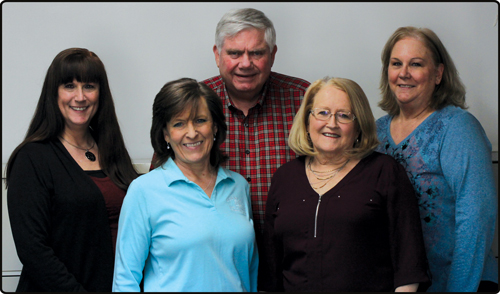 Dennis and Janis Connealy started in the insurance business 35 years ago by offering area farmers products that met a farmer's needs, from a farmer's point of view. The original agency name was Connealy Brothers Crop Insurance or CBCI. Our first crop supper was in March of 1985 in Wheeler's back room. In March of 1986, we moved into an office in the basement of the old Burt County State Bank Building. We moved into our current office in 1991. What started as a part-time crop insurance business done at the kitchen table has grown into four full-time agents and two sub-agents providing additional lines of insurance to further meet the needs of their customers.
We began as independent agents specializing in Crop MPCI, Hail, and Farm Insurance. Our customers asked for a broader range of coverage options at competitive rates so we added home, auto, life, health, long term care, small business, home-based business, commercial buildings, and many other lines of insurance.
Connealy's operating philosophy is based on three solid business principals. These principals guide Connealy's business operations day in and day out.
Experienced Professionals!
Everyone at Connealy Insurance is a professional. You get the benefit of our training and experience. We believe our customers deserve experienced professionals working towards their best interests. Everyone working at Connealy Insurance attends at least two crop insurance update training sessions each year along with continuing education classes in other areas of expertise. Our professionalism combined with experience gives us instant credibility with customers.
Exceptional Service!
There are few things more frustrating than waiting too long for calls to be returned or getting a document only to find out it's wrong.
Our goal is to provide absolutely the best user-friendly service available anywhere. Our team members are trained and are expected to provide exceptionally high levels of customer service. We want you to be pleased with our service every time you walk through our doors, pick up the phone or receive a letter from our office.
Unquestioned Integrity!
We strongly believe the best way to keep our valued customers is to develop a relationship based on mutual trust and respect. We alert you when we feel you don't have the right coverage, offer a solution and let you decide how you want to handle it. Our experienced professionals will ask you to consider areas of risk management that you may not have considered in the past. Our experience and dedication to exceptional service assure Connealy Insurance customers of prompt, professional service delivered with a "How can I help" attitude.
It is our philosophy that, if insurance is designed as part of a complete management plan, you will not be under or over-insured. We are not going to recommend something to our neighbors that we feel they do not need. We have found that very often our insureds didn't know they could customize their insurance policy to fit their needs, they assumed that insurance was 'one size fits all.' We take the time to sit down and evaluate your insurance needs with you so that we can make recommendations and give you options for coverages that meet the exposures that you need to insure against and which ones you don't. When you have determined what your coverage needs are, we find you the best price for that coverage. We feel that it is important that you decide each year which coverage fits your farming operation. Each year we send you a renewal letter. Often times things change during the year that may impact your insurance coverage. Without an annual checkup, it is easy to overlook something new that should be insured or continue to insure something that you no longer own that is still on your policy. We understand keeping costs down, but we also look at what is best for your operation. Cheapest may or may not be the best option for your operation. We look ultimately at how you want to be taken care of in the event of a loss. We pose this question for you, "How long has it been since your agent thoroughly reviewed your policy with you?" If it's been more than a year, it's been too long. There is no additional fee for this service. It is simply part of Connealy Insurance's hometown business integrity
Can we be competitive? YES!
As an independent agent, we have access to several insurance companies and can generally get you broad coverage at competitive rates. We can help you compare your identified risk exposures with your existing insurance policy and make recommendations on whether you should keep the same coverage or make changes. The result is broad coverage based on your specific needs at a competitive price.
---
Currently working with us in the Tekamah Office are Bonnie Braniff, Emily DeGroot and Tami Hovendick

Bonnie Braniff started with us in October of 1989 when we were still Connealy Brothers Crop Insurance. She was our first-time full-time agency employee. She left us for a few years but has been back since April of 2013. Bonnie has spent most of her life in the Tekamah area along with her husband Tim and has well over twenty-five (25)  years of crop insurance experience. She can also assist you with your property and casualty risk management needs.
Charlotte "Emily" DeGroot, came to Connealy Insurance in January 2013. Emily started her insurance career in 1993, working with homeowners and auto policies. She is an absolute joy to work with and each of you that has a home, farm or auto policy renewing soon will be talking to her. Emily moved to the area in 2010. Emily and her husband Dave live on an acreage just west of Decatur. Our "city girl" has a large garden, fruit orchard, chickens and horses. She is learning our rural ways.
Tami Hovendick joined Connealy Insurance in February 2020 and though she is a newbie to Connealy's, she isn't to the community, nor to crop insurance. Tami is originally from Tekamah and moved back to the area in 1990. She and her husband Jay live on the family farm just west of Herman where they raised their 4 children. Tami started her crop insurance career in 2007 and continued till 2015. After taking a little break she decided to jump back in and is excited not only to join Connealy Insurance BUT be back in the community she knows and loves.
---