Dennis Connealy passed away the morning of October 18, 2022. He snuck away quietly without so much as a goodbye to anyone. Just his usual way of leaving after making a welcome appearance with friends and family. He leaves behind many lives that dearly loved him and have shared stories of his wit, humor, and generosity.
Dennis was the oldest of eight children from Neil and Joan (Aronson) Connealy. He graduated from Tekamah High School in 1969, and immediately married the love of his life Janis. They settled on the Missouri River bottom where they farmed, raised corn, soybeans and 4 children.
He and Janis started writing crop insurance and opened an agency on Main Street of Tekamah in 1986. Over the years, they loved traveling to Ireland, Hawaii, the beaches of Dominican Republic, Cayman Islands, Bahamas, Jamaica, Costa Rica, Belize & Mexico. Both were certified scuba divers for several years. Together they snowmobiled the mountain tops of Yellowstone, Wyoming, and Colorado, and annually enjoyed family trips at the Lake of the Ozarks.
Dennis loved reading, hunting, and farming. He was directing the harvest of his 52nd crop, approximately. We get a higher number if we count the years he helped others harvest their own.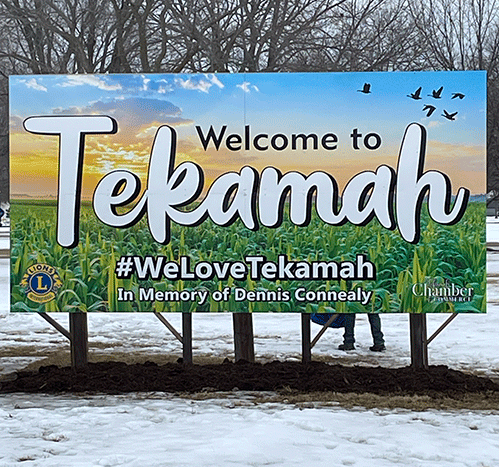 He was preceded in death by his father Neil, brother Donald Connealy and a lineage of many family members he could proudly remember. Survivors include his wife, Janis (LeMaster) Connealy, children: Crystal (Stephen) Fleming, Kimberly (Scott) Lemmon, Quentin (Jill) Connealy, Conrad (Kiley) Connealy; grandchildren: Braydon Lemmon, Easton Lemmon, Logan Fleming, Corbin Connealy, Willa Connealy, Myron Connealy, and McCoy Connealy; his mother, Joan Connealy; siblings: Ted (Sue), Michael (Lea), Paul (Lynette), Patrick (Shari), Jean (Tom) Shramek, Kathleen (Rodney) Bromm, and sister-in-law, Tracy Connealy; sister-in-law, Barb (Brad) Ray; and brother-in-law, Stan (Laurie) LeMaster.